🇫🇷 FMI est ravis de partager une excellente nouvelle avec vous ! Notre équipe de choc a réussi à surmonter tous les obstacles pour réaliser un exploit.
Nous avons reçu un appel urgent de notre client le Lundi 24 Avril qui avait besoin d'un transport immédiat à destination d'Alger. Malgré le défi, nous avons rapidement organisé le booking du transport et commencé les préparatifs pour l'empotage.
La semaine a été mouvementée avec de nombreux ajustements logistiques pour assurer l'embarquement de la Fat Foreuse sur le premier navire en partance disponible en fin de semaine. Nous avons dû faire face à un obstacle supplémentaire avec la grève du 28 Avril. Néanmoins, notre équipe a travaillé sans relâche, faisant preuve d'une incroyable résilience et d'une détermination à toute épreuve.
Cette réalisation est le fruit d'un travail acharné, de la collaboration inter fonctionnelle et de l'engagement envers notre clientèle. Elle démontre également notre capacité à relever les défis complexes et à fournir des résultats exceptionnels, même dans des circonstances difficiles.
Nous sommes fiers de notre équipe et nous tenons à remercier notre client pour sa confiance continue.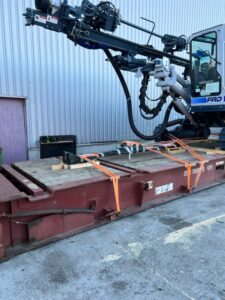 ____________________________________________________________________________________________________________
🇬🇧 FMI is thrilled to share some great news with you! Our crack team managed to overcome all obstacles to achieve a feat.
We received an urgent call from our client on Monday, April 24, who needed immediate transportation to Algiers. Despite the challenge, we quickly organized the booking of the transport and began preparations for the stuffing.
The week was hectic with many logistical adjustments to ensure the Fat Foreuse was loaded onto the first available departing vessel by the end of the week. We had to face an additional obstacle with the strike on April 28. Nevertheless, our team worked tirelessly, showing incredible resilience and determination.
This achievement is the result of hard work, cross-functional collaboration and commitment to our customers. It also demonstrates our ability to meet complex challenges and deliver exceptional results, even under difficult circumstances.
We are proud of our team and would like to thank our client for their continued confidence.